Viol Vignettes: Music of Forgotten Viol Players
September 16, 2022 @ 7:30 pm

-

9:00 pm

$10 – $15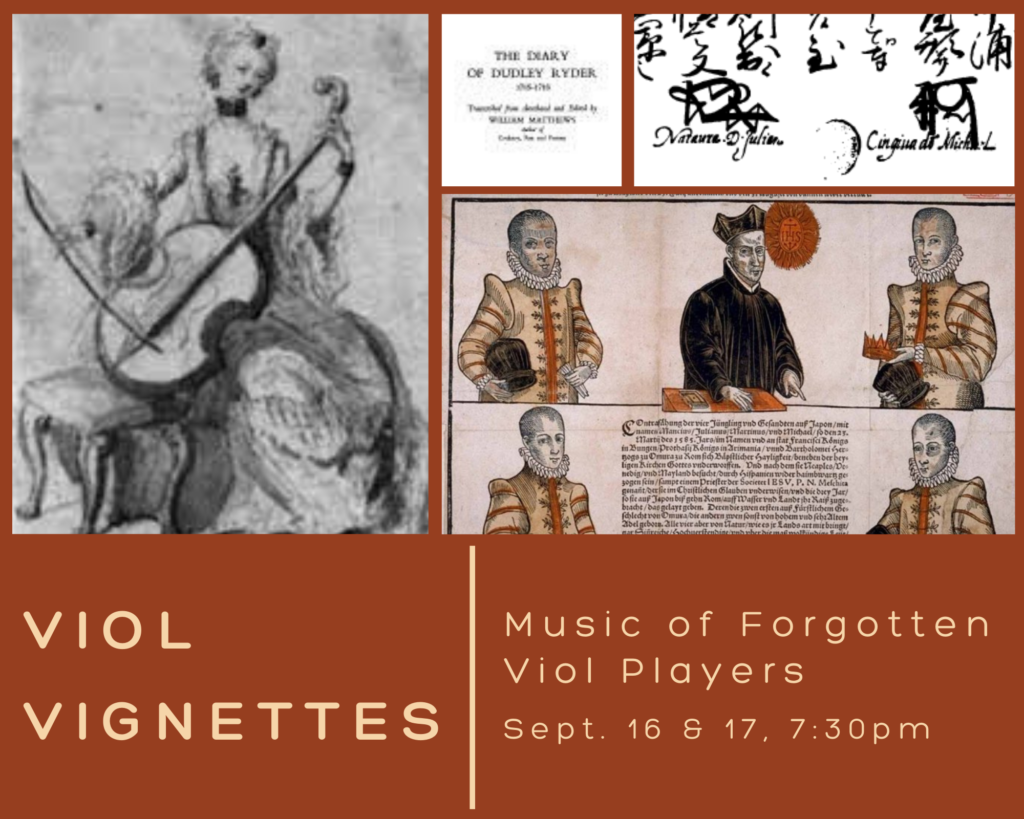 General Admission, $15; Seniors, Students, Children, $10
Tickets available online (Eventbrite) or at the door.
"Viol Vignettes: Music of Forgotten Viol Players" tells the stories of viol players and singers whose musical experiences aren't typically the focus of modern-day concert programs.
In this program, you'll meet
Ann Ford (1737-1824), a London socialite who started her own concert series to support herself after fleeing from her father and an unwanted suitor.   
Dudley Ryder (1691-1756), a law student in London, whose 1715-1716 diary invites us to celebrate the centuries-old joy of making music just for the fun of it.
Mancio Ito, Miguel Chijiwa, Martino Hara, Juliano Nakaura, and other students at Jesuit schools in Japan (c. 1560-1613) who became accomplished viol players and singers.
Get to know these viol players through music that we know they played or that they likely knew, including works by old favorites like Handel and Lully and could-be-new-favorites like John Weldon and Damião de Goís.
Actor Danielle Boivin will help give voice to these forgotten musicians with short dramatic readings by them or their contemporaries.
Ashley Mulcahy, mezzo-soprano; James Perretta, viol; Arnie Tanimoto, viol
Masks Required
_______________________________________________________________________________________
"维奥尔小插曲:被遗忘的维奥尔琴家之歌" 讲述了维奥尔琴演奏家和歌手的故事。他们的音乐历程鲜为人知,通常不在现今音乐会节目中被提及。
在今次的节目中,你将有机会遇见
Ann Ford (1737-1824),一位伦敦社交名流,在逃离父亲和不受欢迎的追求者后,她开始了自己的音乐会系列过着自给自足的生活。
Dudley Ryder (1691-1756) 是伦敦的一名法律系学生,他 1715-1716 年间的日记邀请了我们来歌颂历代仅是为了乐趣而创作音乐的喜乐。
Mancio Ito、Miguel Chijiwa、Martino Hara、Juliano Nakaura 和其他日本耶稣会学校的学生(约 1560-1613 年)。他们是当代出色的维奥尔琴演奏家和歌手。
通过我们知道他们演奏或可能熟悉的音乐来了解这些维奥尔琴演奏家。其中包括热门作曲家Handel 和 Lully 等以及有可能成为乐坛新宠的John Weldon 和 Damiãode Goís 等的作品。
演员 Danielle Boivin 将以戏剧性朗读的方式,通过他们或他们同时代的人的短文,帮助这些被遗忘的音乐家发声。
Ashley Mulcahy, 次女高音
James Perretta, 维奥尔琴;
Arnie Tanimoto, 维奥尔琴
票价:
星期五,9月16日,晚上7点30分
普通卷,$15; 
乐龄人士,学生,小孩,$10
United First Parish Church
1306 Hancock St.,Quincy, MA 02169
入场需佩戴口罩